All You Need To Know Before Purchasing Roman Blinds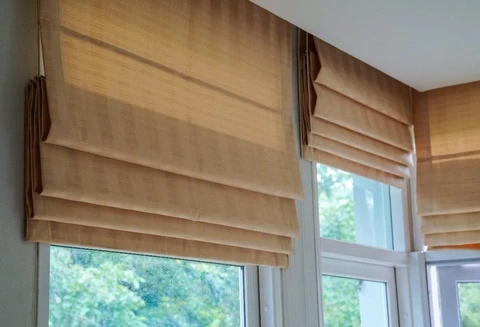 One of the most popular window accessories that many homeowners are purchasing is the Roman blinds. These are elegant, affordable, and stylish interior designs for windows that add sophistication to your home. The blind's easy-to-use construction perfectly fits either patterned or plain designs at home.
Essentially, Roman blinds are crafted from a lining and a fabric (flat piece). All sides of the blinds are securely attached with the linings to create a pocket-like seal or envelope-type blind. Once installed at either a closed or fully extended window position, the envelope will hang flat from the top.
If hanged in an open or fully raised position, the Roman blind fabric will sit in neat, crisp, and horizontal folds that are stacked with one on top of the other. Dowels such as metal, plastic, or slim wooden rods are inserted to create stylish pleats in the blinds.
If you decide to buy Roman blinds, there are things you need to know and understand so you will not do a mistake in making a choice or regret spending for it. Consider these notes so you won't waste a dime.
Not All Fabrics Are Suitable For Roman Blinds
Much good quality fabric for curtains can be used for blinds. A variety of colors and schemes are available that will suit your interior design. However, not all fabrics available in the market are good for making this window dressing. Of course, you wouldn't want to waste your budget on a fabric that will not work best for your blinds.
If you are considering silk for this craft, that is not actually recommended. You are still can be adversely affected by the strong sunlight exposure and moisture. In time you notice that the fabric fades, or worse, rot. Therefore, if you expect longer service from your blinds, avoid choosing delicate and sensitive fabrics like silk, as it does not have durability, assurance, and resilience.
Quality Linings Means Quality Roman Blinds
The quality of your chosen lining will set the limit of your window blinds output. remember that Roman blinds are more durable when made from high-quality lining fabric.
Linings are essential and basic part of the blinds. The fabric's stability and shape depend on how these linings are crafted. The linings also allow skilled seamstresses that are based on accurate measurements. Other than that, the linings serve as protection to the face fabric, especially from moisture, sun damage, and fading.
The Size Of Roman Blinds Are Limited When You Use Normal Curtain Fabric
The standard size for curtain fabric is approximately 138 cm or 54 inches in width. Many homeowners are conscious about this size that they wouldn't want to make mistakes with the window's size.
Luckily, Yorkshire Fabric Shop offers customized Roman blinds that will perfectly and exactly fit your windows. It can accommodate up to 300 cm or 118 inches of the fabric. The shop can neatly join the fabrics together and match the patterns perfectly to achieve the required measurement. With an expanded network across the globe, Yorkshire Fabric Shop offers a wide range of furnishing fabrics and a wide range of upholstery.
Poor Light Source And Small Window Should Be Considered In Choosing The Blind's Position
Once you are already decided that you're buying a Roman blind for your windows, move to the next decision: where will you place the blinds, inside or outside of your window recess?
If your room has been installed with a small window or where a poor light source comes in, it is better to maximize the extent of natural light inside. Of course, the basic thing to do is to not obstruct the natural light. With this, it is better to install outside and above the seamless window recess.
Conclusion
Blinds are getting higher popularity in the home and decor industry nowadays. Deciding to have one is always an excellent choice as your home can look more elegant and sophisticated with blinds as compared with the normal curtains.
Although you already have the budget, it is still better that you research it before considering purchasing. The points discussed on this page are but a few of the many things that you need to know when buying Roman Blinds.